MELBOURNE BEACH, Fla.- Sunday morning a 13.5 foot long female great hammerhead shark washed up dead on the beach. 
Beach goers gathered around as wildlife officials took measurements and collected samples of the dead shark. 
Hannah Medd, the lead scientist at the American Shark Conservancy, was on site gathering information and speaking with those who stopped by. 
According to Medd, the cause of death has not yet been determined and there is no direct evidence of hooks and leaders which would point towards a fishing-related death. 
"However, speaking to a couple of people, they said that they did see people with very heavy fishing gear out here last night," Medd said. 
Bystanders reported that a drone was taken out Saturday night to drop bait, a common practice for fishing larger sharks Medd said.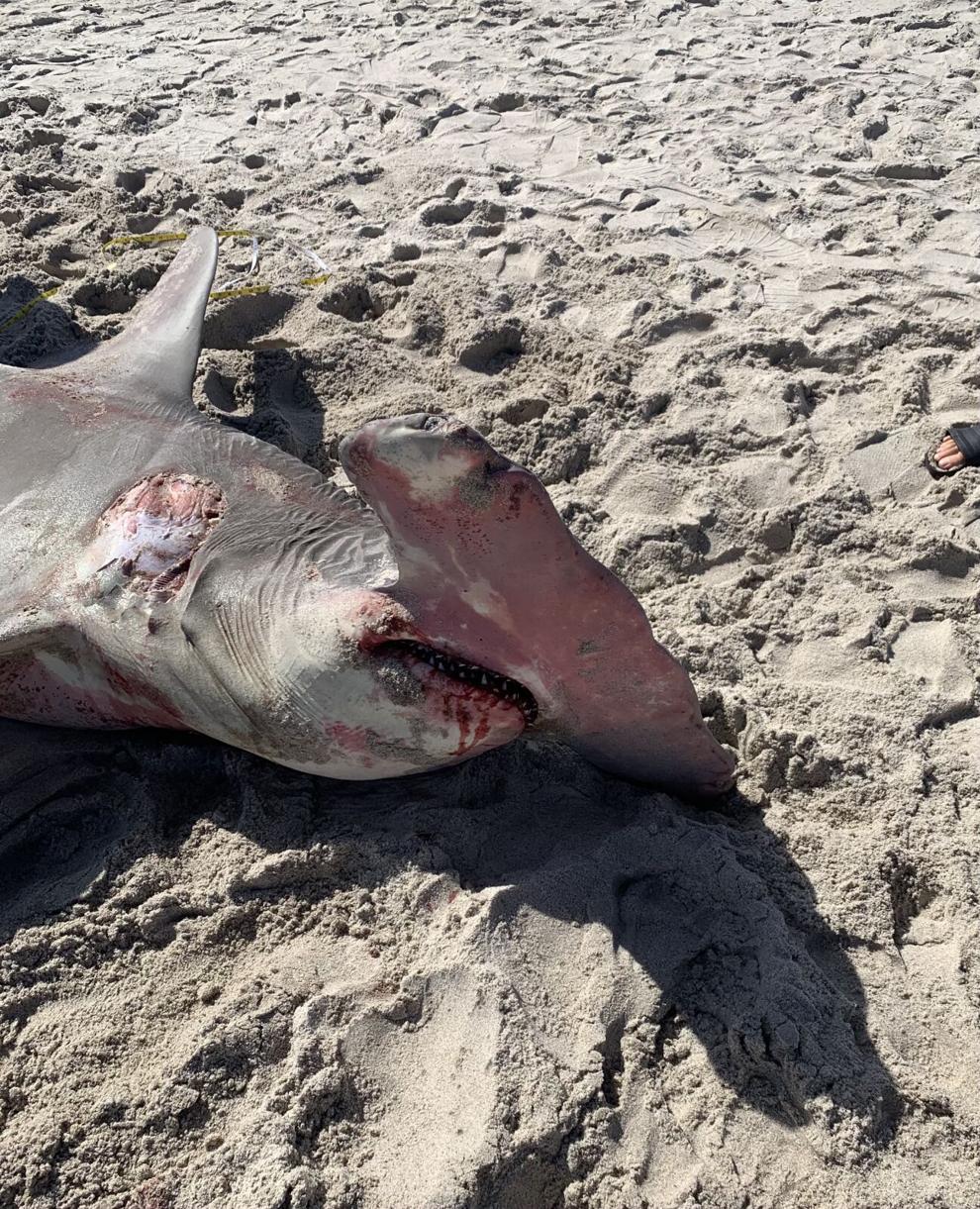 "We then heard through our network of anglers as well that they had heard someone was fishing up here," Medd stated. "There is a cut mark around the gills which maybe looks like, if there was a hook and leader in there, that might have been how they removed it."
Additionally, Medd pointed out knife marks on the shark's tail indicating signs of human interaction. 
This washed up shark is one of many that are included in a post release mortality study. While full necropsies are normally conducted, officials opted not to conduct one in this case because the beach was crowded during the weekend due to nice weather.
Medd works with the Florida Fish and Wildlife Conservation Commission to respond to incidents like this. 
"We've gotten some DNA samples and other tissue samples and a ton of measurements and pictures. And then I'll call the FWC and make sure they're aware of it and then they usually call the local authorities who will then dispose of it," Medd said. 
According to Medd, during this time of year, it's common to see hammerheads closer to shore because they're following smaller prey into the more shallow water. 
The great hammerhead is listed as a critically endangered species by the International Union for Conservation of Nature's Red List. This means that the species is "threatened with global extinction" as defined by the IUCN.
"So unfortunately, globally, it's not looking great. Their fins are highly prized in the fin trade. You know, they're part of commercial fisheries pretty much all around the world," Medd said.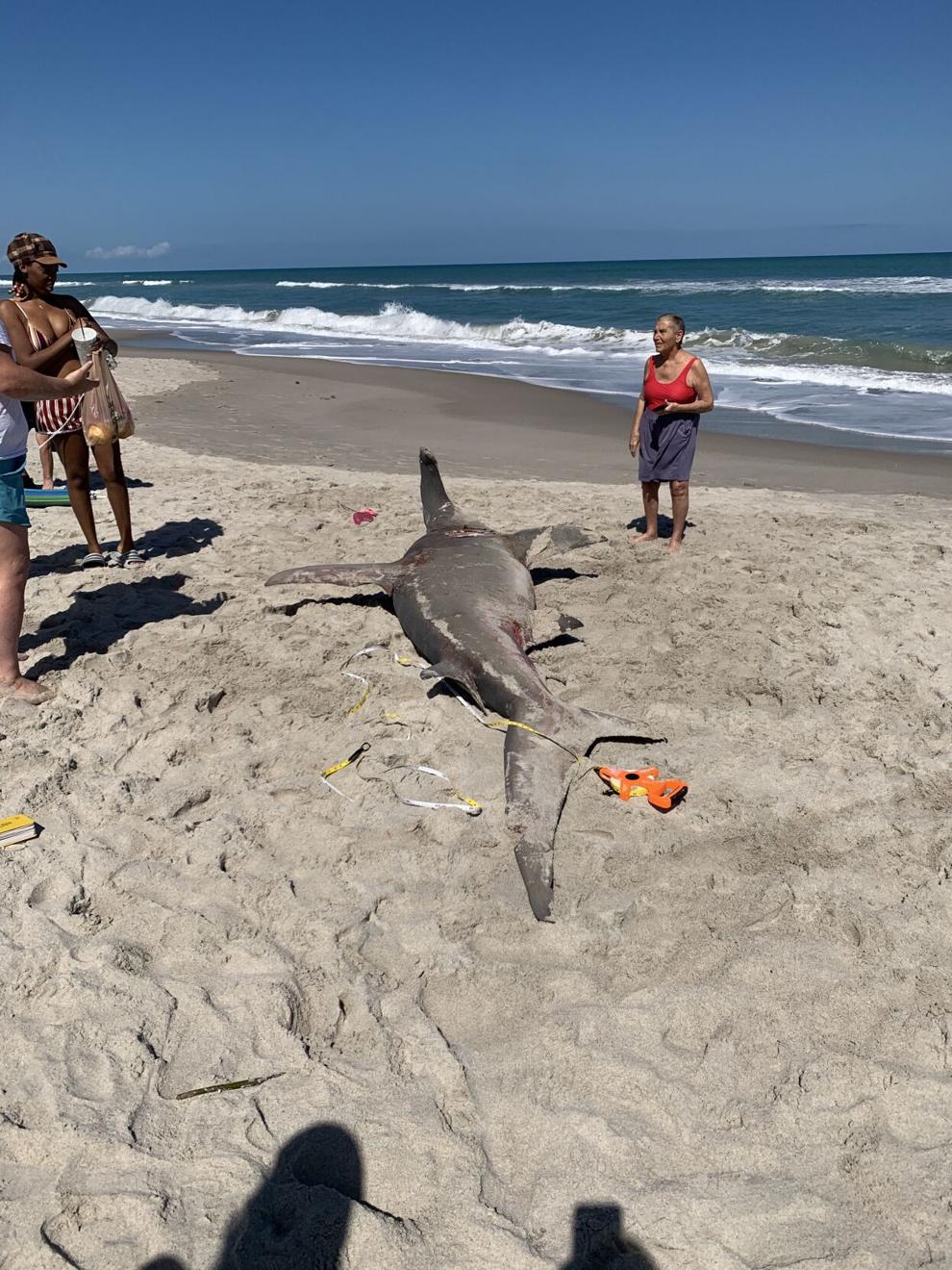 In Florida, these sharks are protected from harvest meaning they can't be fished Medd explained. During the interview, a group came up to ask if they could take one of the dead shark's teeth and Medd further emphasized that even that is considered harvest and therefore is not allowed. 
"They do get a little protection close to home here, which is nice. But it means that things like this are concerning because this is supposed to be where they're safe," Medd said. "So if there's threats to that, then that's where we're kind of concerned and why we want to keep a good record." 
Considering the great hammerhead's extinction status Medd said, "I think people get really upset and it is really upsetting to see a large mature female dead on the beach." 
According to Oceana, female hammerheads reach reproductive maturity between five and nine years of age and give birth to six to 42 pups once every two years. 
"Based on our research, there's a lot of people fishing and very few mortalities. So although it's really upsetting, we're getting valuable data and sort of trying to, I guess, see the silver lining," Medd said.