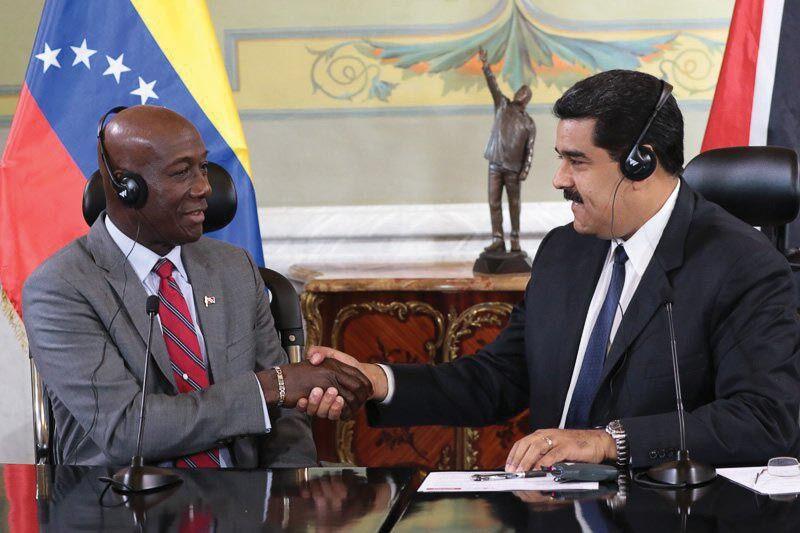 Over the past two years the situation has worsened in Venezuela to the point that Venezuelans have been fleeing the country in the masses to get away from Nicolás Maduro's dictatorship. 
Under Maduro's leadership, the country has faced hyperinflation, food shortages and political chaos. 
According to statistics posted by the U.N., 3.6 million Venezualens left the country between 2015 and December of 2018.
As one of the surrounding countries, Trinidad has acted as a safe haven for over 60,000 Venezualens. 
Keep in mind that Trinidad's population is 1.3 million, excluding the Venezuelans. 
With most Venezualens not having documentation or passports, they must seek creative ways to sneak onto the island. 
"Private boats is the go-to method for many," said Erich Koch, a Venezualen migrant who is now a citizen of Trinidad. 
Koch has been in Trinidad since 2005, but he has been around the world and traveled back and forth to Venezuela for many years before finally settling in Trinidad. 
Koch made his way to Trinidad after the Trinidadian government showed interest in a building technique that was being used in Venezuela. Through Koch's expertise in this field, he became a manager at Macon Trader Co. 
Because of his position in the construction company and him being a Venezuelan native, he finds himself helping a lot of the Venezuelans find jobs and places to live. 
"My labor team consists of eight to 12 guys who are registered in Trinidad," Koch said. 
In the early part of 2019, Trinidad's government decided to register illegal Venezuelans and grant them a one year legal status to the island. This status allows them to work, have banking privileges and even have driving permits. 
In this process, only the Venezuelans with clean background records were allowed to register. For the individuals who have records, they were either sent back to Venezuela or kept in immigration facilities. 
While Koch said the registration of the Venezuelans was a good step for the government, he also said that there are a lot more issues involving the Venezuelans in Trinidad. 
"About 75 percent of the Venezuelans that have come into Trinidad are people who were already involved in crime and have come into Trinidad looking for avenues to practice what they know [crime]," Koch said. 
The crime in Trinidad has gotten to a point that people are afraid to leave their houses. 
The gang violence has gotten unbearable and the drug and human trafficking have only increased since the illegal migration of criminal elements from Venezuela, according to the OSAC Trinidad and Tobago 2019 Crime and Safety Report.
"Everyone already knows how bad the crime is in Trinidad and the criminals from Venezuela have found their way into it," Koch said.
Koch said he believes that the Trinidad and Tobago Police Service, or TTPS, are not capable or equipped to handle these gangs. 
Human trafficking is also one of the major acts taking place in Trinidad, especially involving teenage Venezuelan girls. 
"It is the easiest way for them to make money," Koch said. "They don't speak English so it is easy for them to work in bars or casinos and make money doing [sex work]." 
The Commissioner of Police, Gary Griffith, said in multiple interviews that he is taking the increase in crime very seriously. 
In an interview on CNC3's Morning Brew, Griffith said he already has a 78-point plan and is ready to reform the TTPS all in an attempt in the fight against crime.
Koch said he believes that this is good, but because of Trinidad's government's lack of involvement or concern to the increasing crime, he said he is concerned the condition of Trinidad will worsen. 
"I have seen Venezuela go through the process, and Trinidad will soon end up like that," Koch said."The same thing that is happening in Trinidad was happening in Venezuela."
Citizens of Trinidad are continuing to express their frustration to the government and police but minimal efforts are being taken.
Business owners are now having to take matters into their own hands by having more security at businesses and even creating police-community task forces. 
One task force is the Tunapuna Police Station Community Council. 
They act in the city of Tunapuna and have been a voice between both the people and the police.
Since the year began, 16 people were killed in the area of Tunapuna of which 4 were killed in one week.  
While crime has always been a problem in Trinidad, Koch said he believes that it has escalated due to the influx of criminal elements from Venezuela. 
Not only has crime increased, but the form of crime has broadened, from drugs to human trafficking. 
While citizens like Koch are skeptical, he hopes that the police service and the government try their best to show some sort of combat against this surge in crime.