Another semester at Florida Tech and still no fully operational elevators.
While the student body was informed by Dewey Yeatts, director of facilities management, last summer that both Crawford elevators would be fixed by mid-October, as of this issue, only one elevator is up and running; the other still in repair.
While elevator failure has been a concern for some students, new concerns have arisen.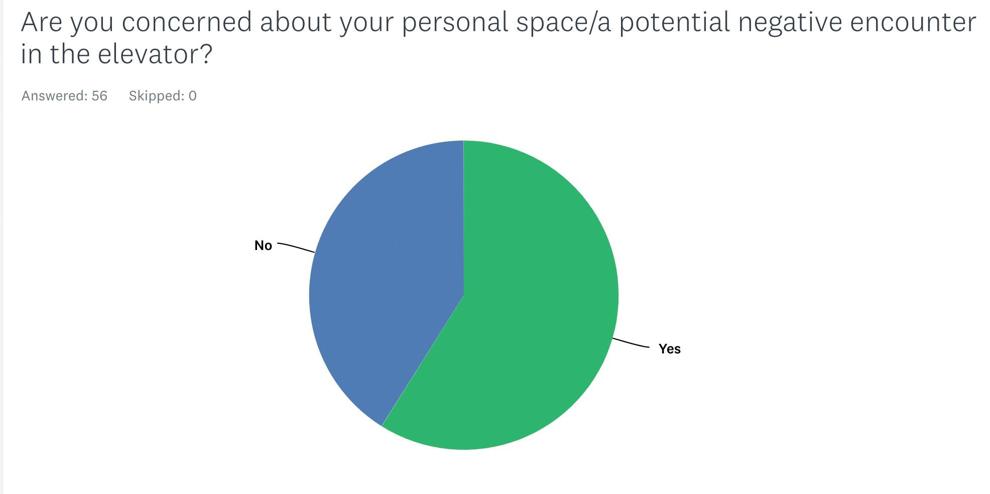 Personal and physical safety is now a concern for some.
The Crimson sent out a survey last Saturday in hopes of gathering information about how comfortable people feel in the Crawford elevators.
Due to only one elevator working, more than 85 percent of those who took the survey think that the elevators are overfilled and most feel uncomfortable in a cramped space.
Additionally, the survey featured an option for students to express their thoughts through comments and free-written responses about their elevator experience.
"I am packed in like sardines and fear for my life," said one response.
Furthermore, almost 58 percent of respondents said they feel at risk of the elevator failing due to its overcrowded capacity.
Despite the newly replaced elevator, some students feel it is being put under too much strain.
Stephanie Perrier, a senior in psychology with a concentration in animal behavior, said she worries about the safety of the elevator with how crowded it is.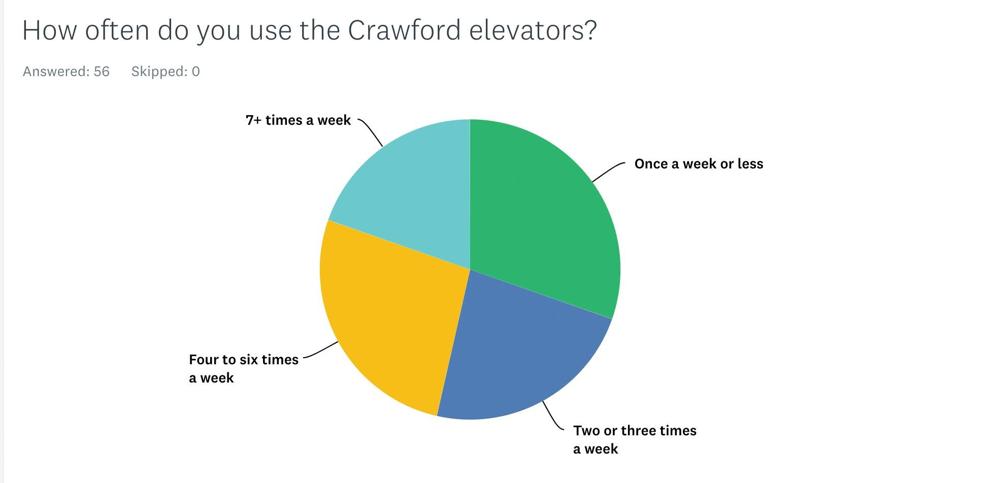 "There's definitely a fear it's going to break since so often it seems to break," Perrier said.
Others shared their disgruntled unsatisfactory experiences with the frequent dilemma of, "Do I wait an eternity for this elevator or do I take a gamble with my laziness and climb the stairs?" Samantha Bischoff, a senior in civil engineering expressed her dissatisfaction about the elevator situation that she's been dealing with for the past four years.
"Five out my six classes are in Crawford this semester, and it's very frustrating to have only one functioning elevator," Bischoff said. "There are times when instead of waiting for the elevator, I simply give up and take the stairs."
Multiple students like Bischoff can testify to being late to classes simply due to time spent waiting for the elevator.
"There are instances where I'm even late to class because of the elevator, especially Spanish which is on the sixth floor," Bischoff said.
Another issue raised in the survey was whether or not students worry for their personal safety in a crowded elevator.
Approximately 58 percent said they are concerned about their personal space or a "potential negative encounter."
"[I'm] very uncomfortable, overwhelmed and stressed," one respondent said. The crowded elevator not only possess what some students see as a personal safety issue, but also adds to many occupants' stress. "Sometimes if it's too full, it's super uncomfortable if you get easily claustrophobic," Perrier said.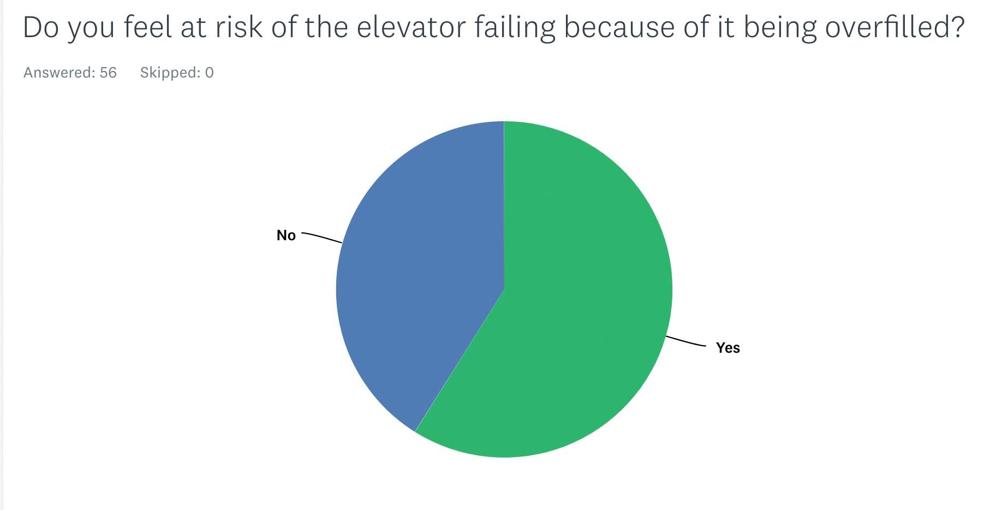 It's not only students that have opinions on the Crawford elevator situation.
Dzmitry Yuran, an assistant professorin the School of Arts and Communication, said that he tends to time his arrival to campus during class periods.
"That way I don't have to deal with stuffed elevators too much," Yuran said.
Another elevator user frustrated with the service of the elevators in Crawford is Birgitt O'Connor, a senior in ocean engineering.
"Right now my only classes in Crawford are at 8 and 9 a.m., so there is usually not a lot of traffic then," O'Connor said. "However, last year when I had afternoon classes in Crawford, you could find me standing there for five minutes or more just trying to cram into the elevator to get to my class on time."
In the newly upgraded elevator, a temporary certificate was put in place before the actual license was renewed.
However, that has since expired in late August.
The second elevator is scheduled to be functional by mid-October, according to Dewey Yeatts.