The Florida Tech campus is back and bustling with students, with the influx of people on campus returns the age-old battle of students versus parking spots.
Taylor Stanley, a graduate student majoring in cell and molecular biology, has been attending Florida Tech since the start of her undergraduate degree in fall of 2016 and has always found the parking at Florida Tech to be an issue.
"This year the parking's worse, mainly because we have a new building going up where there used to be a grass parking lot," Stanley explained. "They would decide to open that lot when things got really bad and you could fit about 20-30 cars in there during the fall semester of 2019."
Stanley also cites that last year there were not any major parking issues because there were less people going to classes in person on campus, "so this is really the first semester of not having that grass lot and also having all the people back, and it's very evident that there are issues."
Brian Leslie, the vice president of facilities operations, explained that to make up for the lack of the overflow grass lot, "the health sciences building has some additional parking that gets created as a part of it."
Leslie acknowledged that while students might have difficulty finding parking right in front of their classroom buildings, there is no lack of parking at Florida Tech as the college has passed city inspections.
"As new buildings are constructed, we have to go through the process with the city, where they look at our parking counts, and make sure that we have adequate parking for the needs of the university based on attendance," Leslie said.
Amy Meyer, the business manager for the department of security, stated that as of Sept. 10 the amount of parking passes sold by security was about 2,000. Around 2,100 parking passes were sold for the academic year of 2020-2021 and around 3,000 parking passes were sold during 2019-2020.
The availability of parking is not the issue as the amount of parking passes being sold by security has not increased dramatically since students have returned to campus for in person learning, so Meyer offered some suggestions for students struggling with parking.
"I think the main thing is that students need to leave a little bit more time so they can find a spot where they want to park," Meyer advised. "Or they need to park one time in the morning and they stay there the whole day."
Meyer encouraged students to try parking where their last class of the day is, or to check for parking on the top floor of the Panther Dining Hall parking lot where all parking passes are permitted.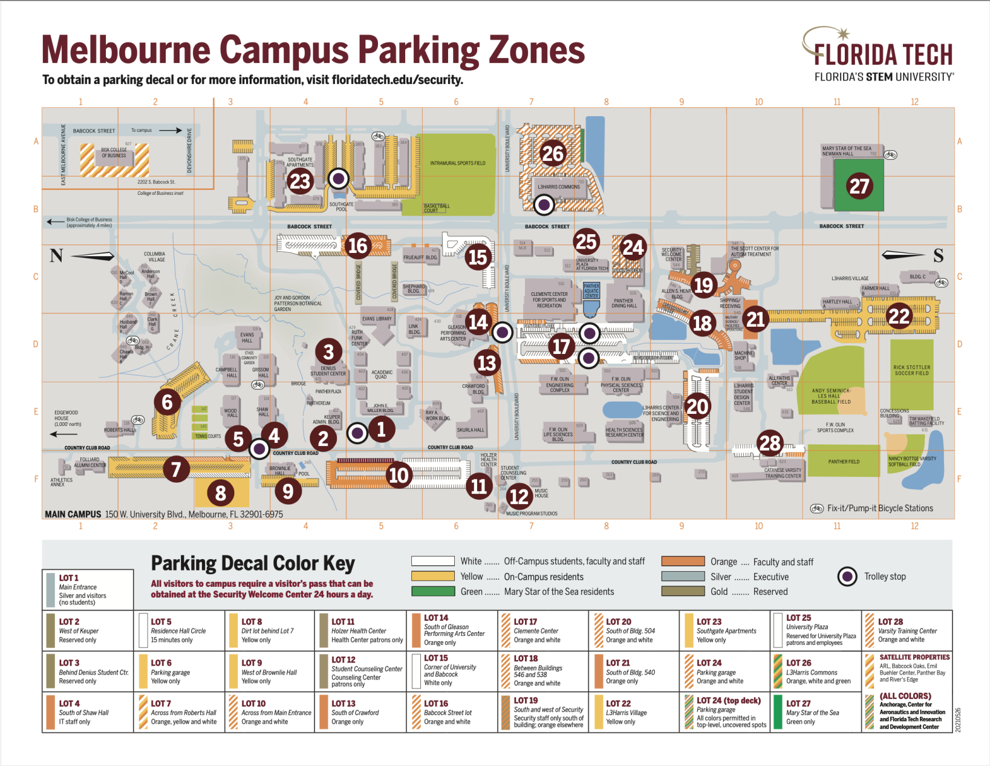 Additionally, Meyer stated that if students buy a Florida Tech license plate they would only have to pay half price for their yearly parking decal, "and we have special parking for people that have those plates right in front of the president's lot in Lot 10."