One sublime aspect of our experience here at Florida Tech is the cultural diversity among students. Over 1200 international students are currently enrolled, coming here from all around the world, according to the Program Coordinator for Cultural Competency Certification, and Interim Dean of Library, Nancy Garmer. 
What's one of the things we all have in common? We must eat! Well, at least at some point in our crammed days, right? The vending machines and several on campus dining locations have a wide variety of options, but what do you do when you have the urge to try something new that's completely out of your comfort zone? 
Here we are to share a series of easy meals inspired by you. Easy because they avoid summersaults of having to source unique ingredients or reproduce long, tedious methods. Inspired because they are derivative of the original. The aim is to produce flavors, textures and tastes that will transport you to a different region of the world.
Pass the Bhaji
First up, Pav Bhaji, pronounced pav-baa-jee. Rahul Mehta is a graduate student at Florida Tech from Mumbai, India, which is central to where this dish originated. He described this dish with an absolute glow and noted the recipe's flexibility.
Two other students, Shaheen Makani and Tejashwini Gajula, from another region in India known as Hyderabad, explained  the popularity as a street food all over India, but even more popular as a light, easy homemade dish when one is busy and needs to whip up something quick. 
Dhruthi Sridhar Murthy, a student majoring in Computer Engineering, from the southern city of Bangalore, very far from Mumbai, also lit up with excitement and confirmed its popularity.  She did note that the hardest part of this dish is the elbow and wrist work needed to smash the vegetables. Apart from that, easy peasy, pun intended. 
Rahul, who can speak in two Indian dialects, indicated that in Hindi and Marathi, Pav means "bread roll" and bhaji means "vegetable dish". 
The bhaji segment can be described in an American context as a "vegetable gravy" or a "dip" that is wholesome, lively, and rich in flavor. Being meatless allows more of us to get on board. 
While the "pav" is almost always a soft white dinner roll, you can use whatever bread, crackers, or even chips you already have. The magic happens in the Bahji; feel free to dip your favorite carb. Dhruthi says she will even have it with rice. 
The next ease of use is that you don't have to stress about acquiring fresh-bought items the moment you wish to make this; frozen vegetables are just fine too. 
There is the option of substituting specific elements of the seasoning called the masala which all who I have spoken to prefer to make from scratch when they are in India, but are ok with using off-the-shelf products here in the U.S. 
A masala seasoning is a measured combination of several spices as a powder and sometimes packaged as a paste. There are different types of masalas based on the specific spice combination, including one specific for pav bhaji, which Teja, Shahin, and Dhruthi all found in the Best of India grocery store for less than $10. 
As an alternative option, Publix sells the McCormick brand Garam Masala. It can be added to other common spices, to develop a custom masala for this dish. Investing in a garam masala powder mix won't hurt, as you can trust me that you will quickly discover future use for the remainder.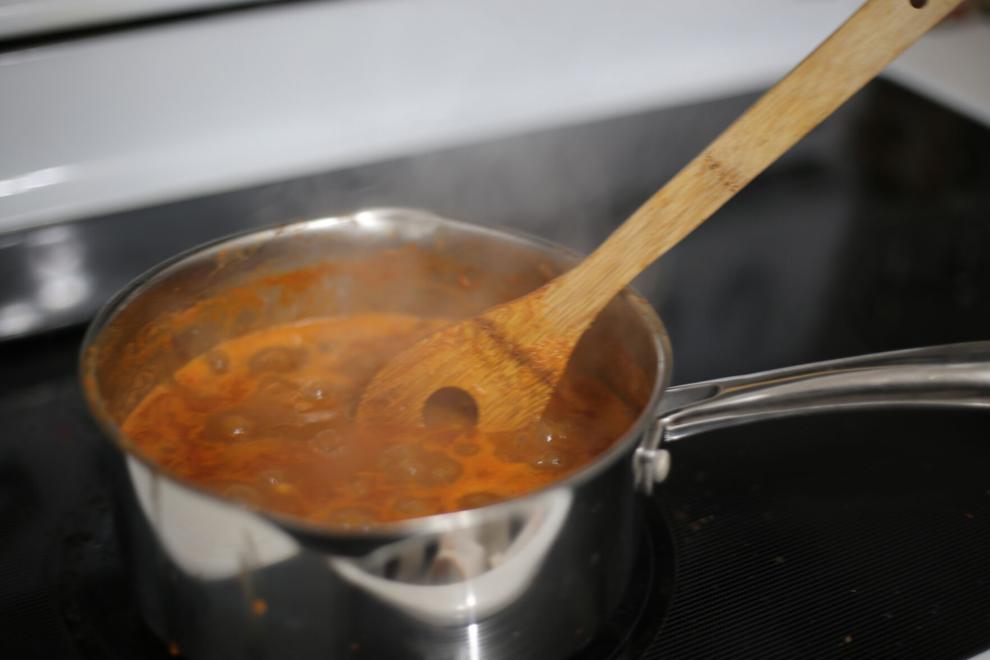 Recipe: Pav Bhaji
Prep Time: 18 minutes
Cook Time: 17 minutes
Total: 35 minutes
Ingredients:
10 tbsp (5 oz) of pav bhaji powder mix
*see note at the bottom for seasoning substitution
2 medium potatoes

1 small carrot, finely chopped (can substitute with cauliflower)

3 medium tomatoes, diced or 16 oz canned tomatoes 
4 oz green peas

1 medium red onion, finely chopped 

1/2 bell pepper, finely chopped 
3-5 cloves of garlic minced, or 3 tsp garlic paste

4 tbsp butter
2 tbsp lemon or lime juice

Salt (to taste)
Directions 
Finely dice potatoes and set them to boil in a medium pot. Let cook until potatoes are fork tender and in the meantime, chop carrots, tomatoes, onion, bell pepper, and garlic.
Melt 2 tbsp of the butter in a saucepan on medium heat.
Add the garlic and 1 tbsp of the masala, making them toast in the butter for 15 seconds.
Turn up the heat and immediately add all of the rest of the vegetables. 
Saute the vegetables for about 3 minutes until soft and tender. 
Mix in ½ cup water, keeping the heat high and crushing the ingredients to a paste. 
Add half of the remaining masala, stir, add another ½ cup of water, cover, and keep at a boil for 8 minutes, occasionally stirring. Add water as needed, but not too much because we want a thick consistency.
Reduce heat to medium-high, part the mixture to the sides of the pot, add the other 2 tbsp of butter to the middle, add the rest of the masala to the butter as it melts, and then mix everything.
Increase heat and add a ¼ cup more water, 
Add the lemon/lime juice. 
Cover and let cook for 6 more minutes, occasionally stirring, only adding tiny drops of water if needed.
Stir after turning off the heat, and serve!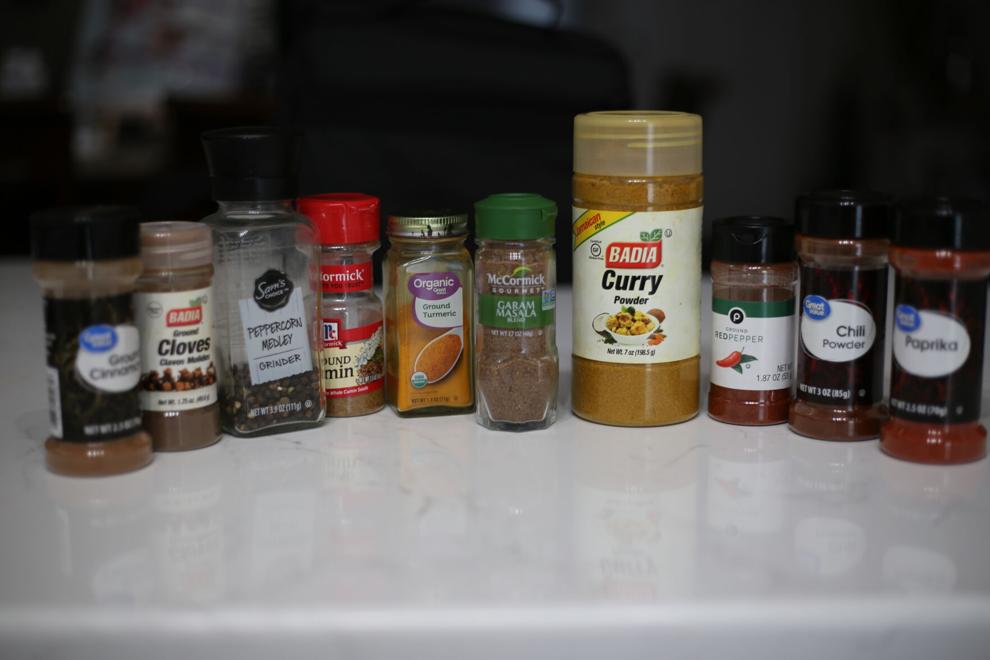 *Pav Bajhi seasoning:
3 ½ tbsp garam masala powder

3 ½ tbsp of paprika powder (mild), chili powder (hot), or cayenne powder (hottest)
*depends on how spicy you want it
1 tbsp turmeric powder or curry powder

1 tbsp ground ginger 

1 tsp ground cloves

1 tsp cumin powder

½ tsp ground black pepper

½ tsp ground cinnamon