Brooke Hursh is a senior majoring in astronomy and astrophysics at Florida Tech who worked on the Origins, Spectral Interpretation, Resource Identification, Security-Regolith Explorer (OSIRIS-REx) mission during her internships at NASA, and was selected as a 2021 Astronaut Scholar this past summer.  
Hursh comes from a small town in Ohio and a graduating class of 138.  Although her hometown had limited science programs and opportunities for her, she attributes her beginnings in science to her 8th grade math teacher who showed her an image from the Hubble Space Telescope, which she keeps as a reminder on her desktop background to this day.
Hursh described how the Astronaut Scholarship has impacted her life so far.  
"One, it was an honor, and two, it was affirming. It was affirming to me...that I'm doing the right thing...and then you have that affirmation reinforced even stronger," Hursh explained.  
The Astronaut Scholarship Foundation (ASF), the institution offering the Astronaut Scholarship, only selects, "the very best and brightest scholars in science, technology, engineering, and mathematics," according to the official ASF website.
On their website, it can be seen that ASF has a reputation of having offered over 7 million awards and sponsoring over 600 Astronaut Scholars throughout its over 35 year lifespan.  In 2021, the prestigious foundation awarded 60 scholarships to students across the country.
Hursh recalled some of her most memorable experiences from the Astronaut Scholarship program.
In addition to meeting distinguished Astronaut Scholar Kristina Koch, Hursh discovered an entirely new life passion of hers through a tour of Disney Imagineering.  
During her visit at Disney Imagineering, she became fascinated by how detailed and particulate Disney Imagineers were when it came to the design of the parks and their stories.  
"It has a geological history, chemical history, physical history, even a cultural history," she described.  
In addition to ASF, Hursh has also had unparalleled experiences and met incredible people through her three consecutive NASA Goddard Space Flight Center summer internships.  
Having applied late to the open position to catalog images from the OSIRIS-REx mission her freshman year, Hursh was overjoyed when she heard the good news.  
She got the news in the form of an email while taking a shower, and she recalled falling out of the shower in surprise.  
This was a huge opportunity as most NASA interns don't have the chance to work on missions, and interns tend to be upperclassmen or graduate students, Hursh explained.
OSIRIS-REx is a mission to recover samples from the asteroid Bennu to better understand its physicochemical properties and the history of the universe, as stated on the official NASA OSIRIS-REx website.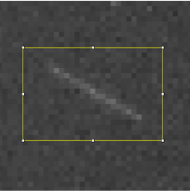 At NASA, Hursh was responsible for identifying objects and anomalies in images from the OSIRIS-REx camera.  She witnessed a phenomenon her and her team called "blobs".  
According to Hursh, single-frame images of particles would appear as streams of light, but these "blobs" were particles that appeared as single, well, "blobs" on the image (hence the name).  Another team at NASA had discovered these anomalies as well, but they instead coined the term "snowballs". 
Hursh is working on applying for a master's degree in themed experience, hoping to work as a scientific advisor for movies, parks, or even museums. However, her dream job lies at Disney Imagineering. 
"I love telling stories," she says.  
She said she will be combining her passion and knowledge of science with her creative interests and her desire to give back to the community to help, "keep that inspiration going. You gotta have hope."
As for advice Hursh would like to give to any aspiring future astronauts or scientists, her home point is the importance of networking and talking with people. 
Hursh recounted a meaningful interaction she had during a "happy hour" at NASA Goddard Space Flight Center, at which a conversation about science and books turned into a private tour of the Hubble Space Telescope, the wonder that sparked Hursh's beginnings in her field.