Florida Tech's security department, student life, and student government association partnered together to organize a ULock Bike Program that will provide students with a free u-lock once they complete the bike registration form through security. 
This program is intended to prevent bike thefts while also providing the security department with the bike serial numbers required to relocate any stolen bikes.
Florida Tech security investigator Jack Gordon emphasized the importance of the serial numbers being registered with security. The process is free.
"Serial numbers are so important because if you want to report it to the police, my bike looks like your bike unless you have the serial number," Gordon said.
In addition to registering students' bikes, Gordon stressed the importance of using metal u-locks instead of a cable or chain lock. 
According to Gordon, in all cases of theft at Florida Tech where the bike was locked, a cable lock was cut with wire or bolt cutters.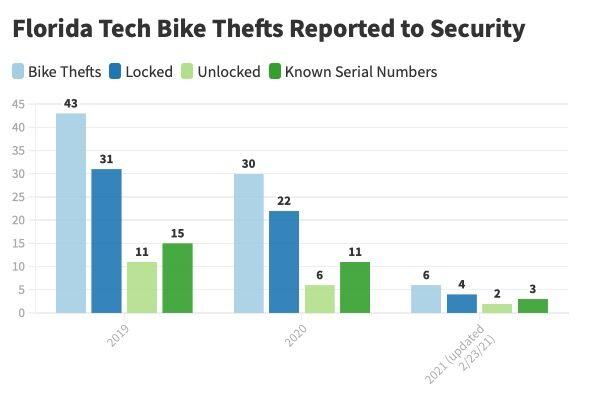 By using a u-lock the bike instantly becomes less attractive to potential thieves since it will take longer to break, and require more heavy-duty materials to do so.
"If you want to keep your bike, lock it. If you really want to keep your bike, get a u-lock," Gordon suggested. 
Gordon reported that there were 43 bike thefts in 2019 and 30 bike thefts in 2020. None of the bikes were recovered. 
Frank Iannone, the director of campus security, recognized the need for u-locks on Florida Tech's campus.
"The u-lock is a great deterrent and having the bikes registered in the event if the bikes are taken will provide us with the information to hopefully track down the bikes," Iannone explained.
Iannone approached student life on Jan. 26 to see if it was possible to start a u-lock distribution program.
Cat Nanney, director of student involvement at Florida Tech, said she thought it was a great idea because, "it is important for students to feel safe and secure and to know that their property here on campus is protected not only by them but by security."
The entire program took roughly a month to organize, starting with the ULock Bike Program being approved by SGA on Feb. 4 and ending with the u-locks arriving on Feb. 26.
Now, Nanney is waiting for stickers with serial numbers for the bike locks to come in before student distribution can occur. 
"These serial numbers will correspond to what security has on file for that student so they'll have the serial number of the bicycle attached to the serial number of the lock that they're given so it's all in one, one easy thing," Nanney explained
Nanney worked to find the ideal supplier whose u-locks were both the most cost-efficient and high quality. She contacted the company Bell and was able to purchase the first batch of 349 u-locks for $1,745, which was $5 per bike lock.
The funding for this program came from SGA. Rosie Red, the president of SGA, stated that, "security and student life worked really hard on the project, and SGA were just happy to really be the support and the funding behind it."
Red said that it is an ideal program that benefits both the students and security here at Florida Tech.
"The students will register their bikes and get to keep that lock for forever and security will be able to use those locks to identify any bikes, based on their registration."
Nanney hopes to get the ULock Bike Program up and running by April 1 and hopes to make this a permanent program housed in security.
"We're just really excited that we could complete such an important project so quickly for the students," Nanney said.