Irene Zisblatt, a Holocaust survivor, recounted the story of her life at an online event on Jan. 27 for Holocaust Remembrance Day.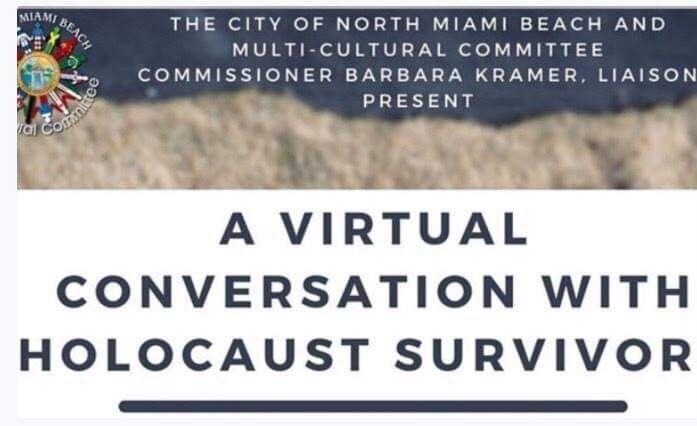 "It's important while Holocaust survivors are still here, to hear their stories and bring awareness to the atrocities that occurred in World War II," Barbara Kramer, Miami Multicultural Center Commission liaison, said.
The event was hosted by the Miami Multicultural Center and offered by Florida Tech as part of the Cultural Competency program.
Zisblatt was 13 when she was taken to Auschwitz. She was taken by cattle car, and stuffed inside with 100 other people for three days before she arrived at the concentration camp. The entire car was given one bucket to use as a bathroom, and the only light came from a crack in the cattle car door. 
When Zisblatt arrived at Auschwitz and the passengers stepped out of the cattle car, the SS or SchutzStaffel guards, Nazi military enforcers, began to separate the men from the women, and the older children from the younger. 
"I saw many chimneys with smoke coming out them from big gray buildings close by, and I told my mother that the SS guards must need so many of us to work in the factories to keep the chimneys going like that," Zisblatt said.
"'Do not cry! I will find you later,' that's what my mother said to me," Zisblatt said, "It was the last time I saw her, and the last thing I heard her say."
Zisblatt was directed into a building with a long hallway and told to take off her clothes and hand over any belongings she had. There were people in line ahead of her having gold teeth pulled from their mouths. 
"I had my mother's diamonds, which she had sewn into a pocket in my dress. I would not let them go. So, I swallowed them," Zisblatt said.
At Auschwitz, Zisblatt was forced to endure Dr. Josef Mengele's experiments. 
"He never gave us anesthetics during the experiments, and there was joy in his eyes," said Zisblatt. 
While enduring Mengele's practices, Zisblatt made friends with another young girl, Sabatka, even though the two were not allowed to speak to each other.
Sabatka was taken away one day, and Zisblatt assumed her silent friend had been sent, like millions of others, to the gas chambers.
Eventually, Zisblatt was able to escape Auschwitz. A Hungarian boy helped her out of the camp to a train that carried her to another concentration camp, Neuengamme.
Sabatka was there as well. This time, the two could speak to one another.
As the war began to wind down, Zisblatt and Sabatka were sent with 5,000 other women from the camp on a 'death march.' 
"As we walked, the SS guards would shoot the wounded, sick and tired women," said Zisblatt.
On a particularly dark night, Zisblatt and Sabatka split from the rest of the group and ran until they found an abandoned farm to shelter in until morning. 
The two were woken up by American troops who had stumbled upon them. Zisblatt explained who they were to a German-speaking soldier.
After hearing their trials, he was distraught. He took Irene by the shoulders and cried, "Who could do this to little children?" The American soldiers took the girls back to their camp and provided them with beds and food. 
Sabatka fell asleep that night, and did not wake the next morning. An American soldier told Zisblatt that she had died from typhus, one of the illnesses widely spread in the camps. 
Zisblatt was taken to a field hospital, and not long after received word from an uncle living in New York that she could come and live with them. It took her two years to get to America.
No one else in Zisblatt's family survived. 
Fifty years later, Zisblatt returned to Auschwitz for the first time as part of a program with a group of college students.
She went to the place where Mengele's building had once stood and shouted, "I have returned, I am alive and I brought young healthy children with me to show them, and you cannot touch them!" 
As Zisblatt ended her story, she triumphantly held up a necklace she was wearing that still carries her mother's diamonds. 
According to Zisblatt, this time in history must be remembered. Her hope is that others who hear her life story will know exactly what happened, so they can recognize the signs of hatred and prevent it from happening again.