Brianna Forte | Copy Editor
"There are a number of new buzz words that have come about now that these racial discussions are happening. I'd like to throw some out there and open the floor to any comments that people have. The first is Black Lives Matter?" asked Kendall Moore, a local attorney who has been involved with campus community events such as the Martin Luther King Day celebration and the Julius Montgomery Pioneer Award.
The topic was met with murmurs from the masked students in room 118 of the Olin Engineering Complex. For an hour and a half on Sept. 10, the group of 51 students and 30-70 online participants watched videos, completed Kahoot quizzes, and discussed the topic of systemic racism within the U.S. at the event titled "Let's Talk Too!"
Following the deaths of George Floyd and Breonna Taylor, nationwide protests against police brutality unified movements for Black Lives Matter. In response to an increase in awareness, Florida Tech began working on more inclusive initiatives. The university hosted two discussions on campus about race, introduced a new course for African American studies and added educational opportunities through First Year Experience.
These are some recent, local events in a long history of movements for the rights and inclusion of Black people. As racism, including institutional racism, did not end with the passing of the Civil Rights Act in 1964, social movements like Black Lives Matter continue to call for an end to systemic racism. Institutional racism includes "discriminatory practices, unfair policies and practices, along with unequal opportunities within organizations and institutions based on race." The Black Lives Matter website calls for an "investment in our communities and the resources to ensure Black people not only survive, but thrive."
As Moore pointed out to the students at "Let's Talk Too!" Florida Tech as an institution is not isolated but, "is existing within the United States today," and is "in a place where it has to understand how it's going to act and react relating to what's going on right now."
Moore first led a discussion at Florida Tech at the "Let's Talk" event on July 16, where 37 faculty, staff, and students were briefed on the history of racism within the United States, discussed current events, and brainstormed ways the Florida Tech community can move forward and approach this issue. From listening to the input during that discussion, Senior Vice President for Student Life and Alumni Affairs Bino Campanini, helped direct the Florida Tech administration's direction and involvement relating to this issue.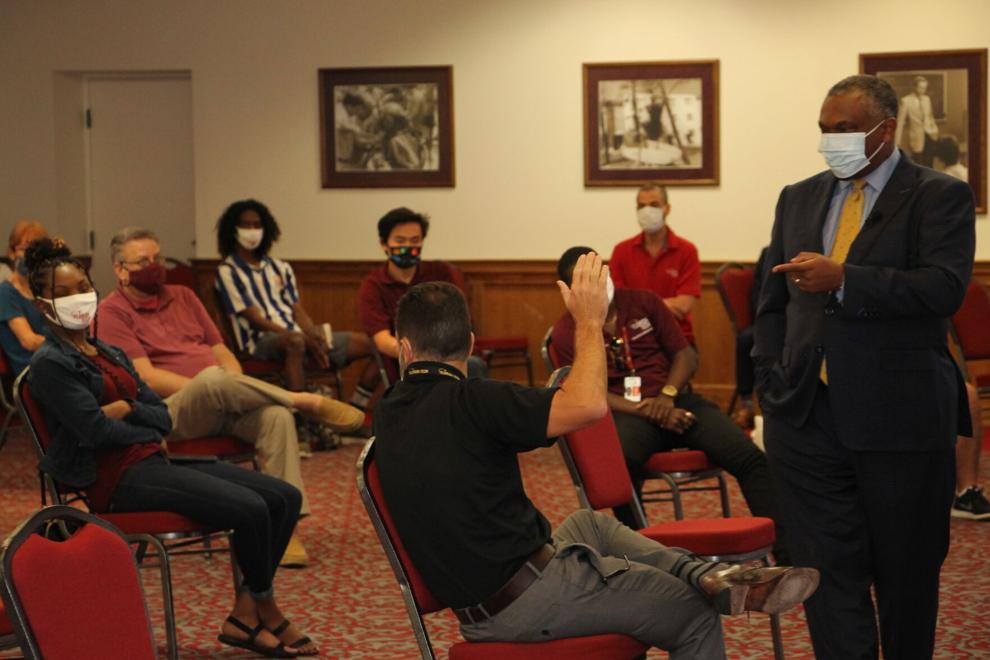 While the first event was mainly geared towards faculty and staff, Campanini expressed the importance for Student Life to organize a similar event for the students once school started.
"We knew when students came back, we wanted to give them an opportunity as well to come and share their thoughts and feelings about the situation," Campanini said.
Krishna Patel, Director of Student Wellness and Programming, helped Campanini organize "Let's Talk Too!" with Student Life.
"Due to the moderator we had, and those examples and history lessons we brought into it to give everyone an overwhelming round picture, students were very thankful that we were able to provide a scene where there was no conflict when they were talking about these serious issues," Patel said.
One student in particular was involved in Florida Tech's actions on race before the two discussions were even hosted. According to Campanini, Furaha Merritt, the president of the Black Student Union and a senior studying Information Systems, was one of the pivotal people that pushed to start an open conversation on campus.
Merritt explained the need for dialogue citing that, "it's very important that students grasp the concept that it's not going to go away. George Floyd, Breonna Taylor, Ahmad Arbery. They're not the first of many, they're literally the last few incidents of hundreds. It's not going to go away until it's addressed."
On top of being a catalyst for discussions on campus, Merritt also approached Campanini about introducing new courses at Florida Tech that could be part of an African American Studies minor. This included the Modern African American Studies course that was added to the fall 2020 calendar. 
After being approached by Merritt and the Black Student Union, Campanini organized a meeting with Lisa Steelman, Robert Taylor, Gordon Patterson, Lisa Perdigao, Rolanda Gallop, and Furaha Merritt about the possibility of introducing a new course that semester. Within three to four weeks, the Modern African American Studies course was introduced for the fall 2020 catalog as an elective.
"I think from my perspective, this was the way our administration could show that we were serious and we were listening," Campanini said.
The course is taught by an adjunct professor in the Africana Studies Department at the University of Central Florida, Professor Donald Harrell. His previous experience also includes teaching Africana studies at Coastal Carolina, co-founding and performing in the group known as OrisiRisi African Folklore, and developing and teaching the Evolution of Hip-Hop at the University of Central Florida.
"The history of African American people has just been brushed aside, or has been told from perspective that's not very helpful in terms of reaching a point where the ideals of the founding fathers are in fact achieved," Harrell said.
Harrell is teaching this class of 11 students through the College of Psychology and Liberal Arts. 
Included within this small group of students is Merritt, who enjoys the discussions among her diverse classmates.
"Just seeing that in this small little petri dish just shows that if this was applied to a broader scale where there's more students the conversation and discussion could be – I mean there's potential for just greatness and real thought," Merritt said. 
Harrell stated that he's thrilled to be working with such amazing students about a topic that is evolving to this day.
"This is just like the 60s when society shifted, and there was a fundamental change that rings true even now. And we're at another one of those times and now I'm not the college student, but I'm the one who's teaching the college students," Harrell said.
Harrell has worked with the music department to introduce another course, the Evolution of Hip-Hop, for the spring 2021 semester. 
"All the stuff that we just talked about with African American humanities, comes up in one form or another in the evolution of hip-hop, so they fit together hand in hand," Harrell explained. 
Along with the introduction of Modern African American studies, the First Year Experience course required for all new undergraduate students has altered their course content to include educational resources on racial diversity.
Director of FYE, Jessica Ha Bittner, discussed the possibilities for content with Campanini and Patel following the first "Let's Talk" event. 
Bittner felt that FYE needed to adjust their course content because the majority of incoming students are required to take it.
 "I feel like I have this huge responsibility to educate the masses about things that are important for their success such as this major issue," Bittner said.
The material introduced through the online modules included resources introducing information on implicit bias, microaggressions, equity versus equality, and diversity and inclusion. In addition, Nancy Garmer spoke with FYE students about the Cultural Competency Certificate offered at Florida Tech, and Krishna Patel led a lecture on the importance of words when engaging with people from other cultures.
Bittner said she was grateful that student demands and online course delivery enabled the FYE department to introduce the new content, as it was something the department was leaning toward, but unsure of how to implement.
"It just goes to show that when it comes to student voices, you have to speak up for change to occur," Bittner said.
In addition to the new courses, Campanini and Patel have other initiatives they hope to introduce at Florida Tech.
Campanini hopes to start a partnership with University Park Elementary once COVID-19 concerns are reduced enough to allow this to happen safely. 
Campanini said he hopes the partnership can include supporting the students of University Park Elementary with their meal programs, walking students to and from their school, and hosting visits on Florida Tech campus so a sense of community between the two schools can develop. 
Meanwhile, Patel looks to introduce a new position of a diversity and inclusion role within Student Life to focus on the issues for the students that are underrepresented including race, sex, and sexual orientation.
Campanini and Patel both urged students to communicate what issues they find important, so that Student Life can accurately reflect their students' passions and needs. Campanini emphasized that students have to work towards educating themselves and being vocal about the issues they care about.
"We can put all these things forward, but if the student body doesn't have any interest in them they're eventually going to fade away," Campanini explained.
"The school does have these organizations for you to join so the opportunity and the resources are there," Merritt explained, "but it takes effort and initiative on that person themselves to get involved and go to these meetings and groups."
Groups such as the Black Student Union, the African Student Association, and the Caribbean Students Association at Florida Tech provide a meeting space where people can learn about the issues that these groups face and support these communities.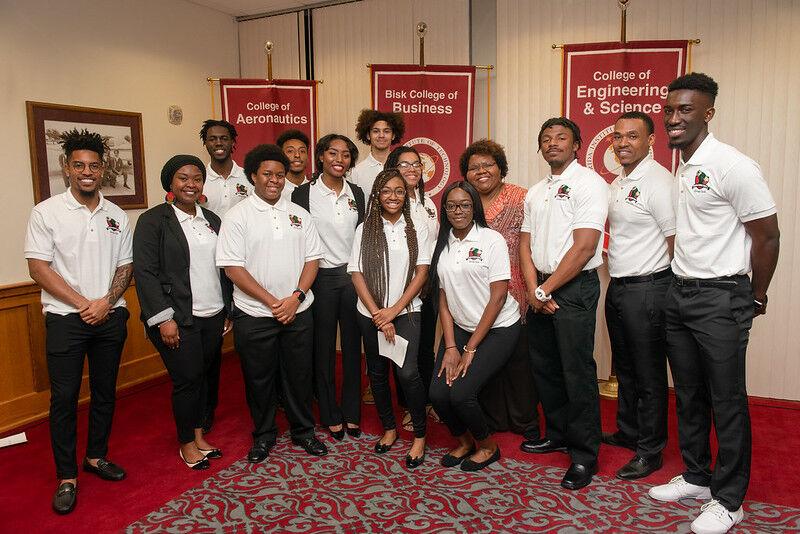 On top of urging students to join these groups and get involved, Merritt also urges people to educate themselves and vote in the upcoming election.
"If you want to change the way you see your streets or your communities or your neighborhoods, you have to go vote for those who are responsible for change," Merritt said.